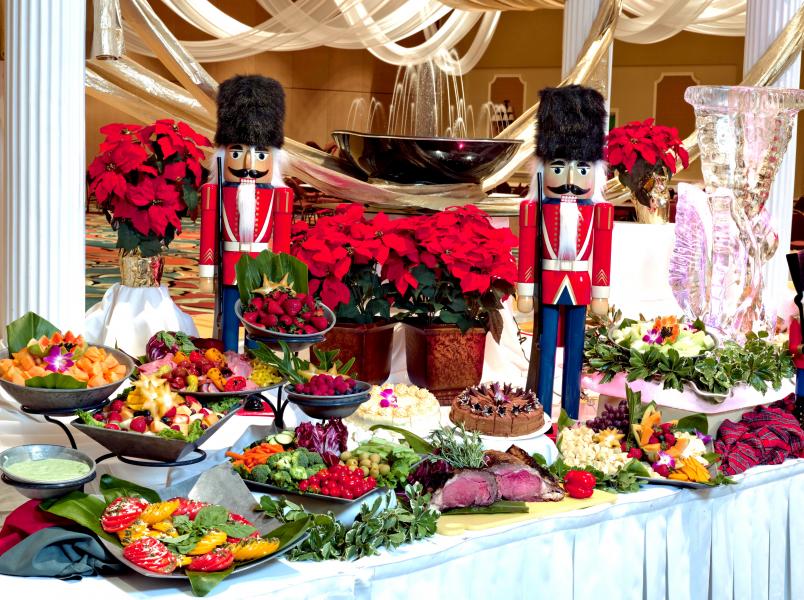 The holiday is even brighter when enjoying the Christmas Day buffet at Rosen Plaza, where chefs cook up delicious dishes that include roast turkey, bistro steak, orange lacquered salmon, a prime rib carving station, an abundant seafood station and even exotic delights such as steamer baskets of Asian Chicken and shrimp dumplings, 3NINE Poke and Asian Yakisoba Vegetable Stir Fry. The Pastries and Dessert Extravaganza is a decadent mix of traditional pumpkin and pecan pies, along with some sweet surprises.
Only through the Rosen Plaza website      https://www.rosenplaza.com/
Rosen Plaza
Christmas Holiday Buffet
Wednesday December 25th, 2019
Soups
---
Smoked Ham Hock and Split Pea Soup (GF, DF)
Mediterranean Vegetable and Kale Soup (V, GF, DF)
Market Salads and Cheese Display
---
Local and International Cheeses, Market Antipasto, Fresh Fruit Spectacular
Mixed Garden Greens with Dressings
Rosen Plaza Seafood Salad (GF, DF)
Farro Grain Salad with Pears, Crumbled Blue Cheese, Spinach, Candied Walnuts
Apple Cider-Dijon Dressing (Veg)
Brussels Sprout Slaw with Snow Peas, Watermelon Radish, Toasted Cashews, Ponzu Vinaigrette (V, DF)
Seafood Station
---
Spiced Shrimp Boil with Lemon and Lime Wedges, Cocktail and Louis Sauces
Chilled Oysters-on-the-half Shell
Cured Salmon with Hard Boiled Eggs, Tomatoes, Red Onion, Capers, Parsley, and Cream Cheese
Paella Castellano (GF)
Saffron Rice, Clams, Mussels, Shrimp, Scallops, Chicken, and Chorizo
Dim Sum and Yakisoba Station
---
Steamer Baskets of Asian Chicken and Shrimp Dumplings, 3NINE Poke, and Cusabi Sauces
Asian Yakisoba Vegetable Stir Fry (DF, V)


Pasta Station
---
Cavatappi Pasta and Tri-Color Cheese Tortellini
Pesto Alfredo, Vodka, and Home-Style Tomato Sauces
Carving Station
---
Roast Prime Rib of Beef Au Jus (GF)
Horseradish Sour Cream
From the Hot Buffet
---
Roast Turkey with House Made Gravy and Fresh Cranberry Sauce
Roasted Root Vegetable Stuffing
Bistro Steak with Foraged Mushrooms (GF)
Seared Chicken Breasts with Autumn Corn, Pazole, Green Chiles, and Lime (GF)
Orange Lacquered Salmon with Dried Cranberry and Citrus Dressed Arugula (GF)
Farmer's Market Vegetables (GF, V)
Steamed Haricot Vert Beans with Matchstick Carrots (GF, V)
Milk and Butter Yukon Gold Potatoes (GF)
Chef Ashley's Pastries and Dessert Extravaganza
---
Christmas Yule Logs, White Chocolate Peppermint Cake, Pecan Pie, Key Lime Pie
Pumpkin Pie, Red Velvet Cake, Eggnog Cheesecake, Maple Bourbon Chocolate Cake,
No Sugar Added Cake, French Petite Fours, Mini Christmas Cupcakes, and Candies
Soft Serve Ice Cream with all the Toppings
$46.95* Adults
$18.95* Children 4-12
Under 4 Free
*(Does not include tax or service charge)
FAQs
 Do I need Tickets? No tickets are required.  Check in will be completed using the name on the reservation once ALL members of the party are present.
How much is parking? We offer COMPLIMENTARY self-parking for our Christmas Day Buffet guests.
What if someone wants to join my reservation? They can book their reservation through EventBrite and list your name when asked about joining an existing reservation. This will allow us to ensure you are seated together at the same table.
What if I am unable to attend? If you or a member of your party in unable to attend for any reason, you can request a refund up to 24 hours prior to the event. All refund requests or no-shows after Monday December 24th, 2019 will not be refunded.
Get tickets for this event on: EventBrite.