The First And ONLY Online Pinterest Marketing Conference
Visit The Event Website to catch the 1st session for free + check out more highlight videos: https://chrysmedia.com/pinterestmarketingcon/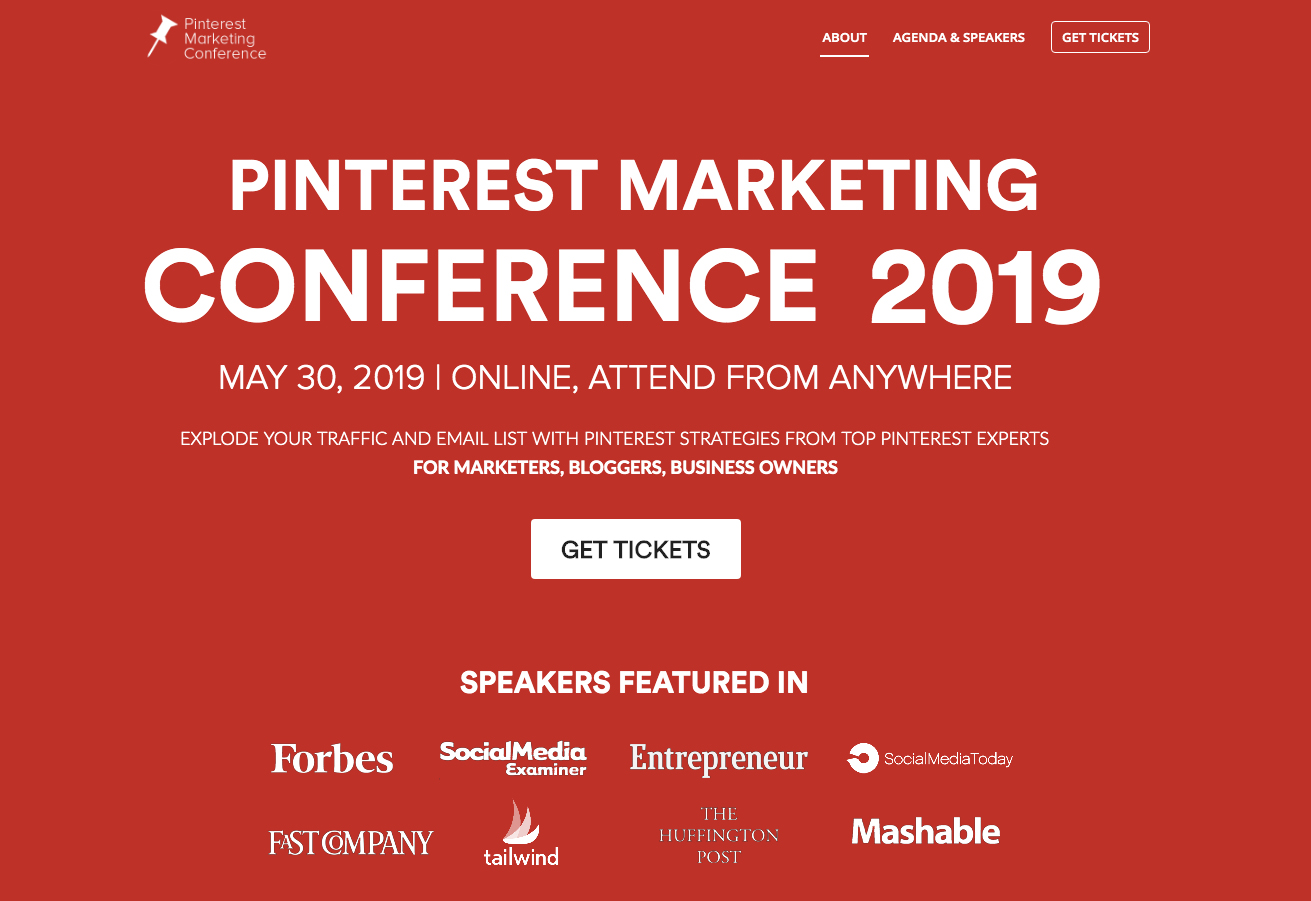 Learn how to massively increase traffic and email list with Pinterest marketing strategies from top Pinterest experts.

We've brought together over 10+ of the world's top Pinterest experts to teach you how to implement effective Pinterest strategies that will drive your website traffic and email leads.
Conference website: https://chrysmedia.com/pinterestmarketingcon/
In this game-changing online conference you will learn:



Register Today And Save!
Get access to all sessions designed around specific, ACTIONABLE topics.
Value Pass (USD47):
– Watch all sessions for 24 hours on May 30, 2019.
Value Pass + Downloadable MP3 Audio Files (USD67):
– Watch all sessions for 24 hours on May 30, 2019.
– Downloadable MP3 audio files for each session (worth $377)
Premium Pass IMMEDIATE ACCESS (USD97):
– Lifetime access to recordings of all sessions. Self-paced. Watch or re-watch every session.
– Downloadable MP3 audio files for each session (worth $377)
IMPORTANT: AFTER PURCHASING:
Please stay tuned as we will be sending you your login details on May 30, 2019. Do check your spam folder – sometimes our emails get marked as junk or spam 🙁
If you do not receive your log in details on May 30th by 11am EST, please send us an email immediately. We aren't able to issue a refund if you do not inform us by May 30th (to prevent fraud).
Unsure if an online conference is for you? Visit The Event Website to catch the 1st session for free + check out more highlight videos: https://www.chrysmedia.com/pinterestmarketingcon
FAQs
What's the refund policy?
You can cancel your ticket within 24 hours of purchase by sending an email to chrys@chrysmedia.com, and get a refund minus a USD20 admin fee. There are no refunds after the first 24 hours from purchase.
If you've made a purchase and did not receive an email with the exact login details by May 9th, please reach out to us ASAP by clicking on the messenger icon on our website https://www.chrysmedia.com/instagrammarketingcon/ or emailing us at chrys@chrysmedia.com so that we can advise the login details.
However, to help you make a better purchasing decision so that there is no buyer's remorse (we certainly don't want that!), please check out our free session and sessions highlights available on https://www.chrysmedia.com/pinterestmarketingcon/ to get a feel of what the conference and teaching style is like.
How do I attend this online conference?
Because Pinterest Marketing Conference 2019 is an ONLINE conference, you can attend virtually from anywhere in this world… as long as you have internet!
Step One: Watch the sessions
Once you've purchased a value pass or a premium pass to Pinterest Marketing Conference 2019, a unique ID and password will grant you access to all the session recordings.
Simply log into the dashboard (link will be sent to you in your welcome email), select the session you'd like to watch, and click play.
Step Two: Note The Dates
Value Pass holders can watch all of the sessions from May 30th, 2019, 11am EST till May 31st, 2019, 11am EST.
Premium Pass holders get immediate LIFETIME access to all of the sessions PLUS MP3 audio recordings of all sessions.
Get tickets for this event on: EventBrite.